HR is an important aspect of any business, but it can be resource-draining and overwhelming. If you have never considered outsourcing HR before, you would be surprised by the work HR representatives can take care of.
Sometimes it's not easy to outsource your human resource duties. HR management is a key pillar of most businesses, and HR departments take on a wide range of important tasks. Since an HR department oversees everything related to employee development, it is normally seen as an in-house function. However, many companies are choosing to outsource HR.
HR professionals carry out a range of responsibilities including:
Ensuring the business complies with labor laws
Training staff
Keeping records and ensuring tax compliance
Mediating disputes between employees or between management and employees
Setting up employee performance improvement plans
Why Some Companies Decide To Outsource Hr Instead Of Staying In-house
There are many things to consider before making the transition to HR outsourcing. For some businesses, the benefits of having an in-house department outweigh those of outsourcing HR functions. Hiring in-house HR professionals ensures your HR team is familiar with your workplace culture. They are also easily accessible when issues arise, and they can offer in-person support to your employees when necessary.
That being said, there are many advantages of outsourcing HR functions. HR outsourcing solutions are often ideal for small and medium-sized businesses that do not have the capacity to hire in-house staff. HR outsourcing providers enable you to save money while benefiting from a wide range of services. They also have access to advanced technology, offer comprehensive employee benefits, maintain effective compliance with a multitude of rules and regulations, to name a few.
If you're thinking about HR outsourcing, you need to consider:
The size of your business
The cost of an in-house HR team
The expertise within your company
The technology you can afford
Whether the work will require face-to-face conversations
If you need your HR team to organize team-building sessions and social activities
Whether you plan to increase your staff count each year
Outsourcing Hr Functions: What We Can Provide For Your Company
Outsourcing HR activities is becoming more popular every year. While some outsource the entire department, others choose to retain control over certain functions. You get to decide which HR functions will be outsourced. If a major issue arises, it is best you take it to an HR outsourcing company.
Some of the roles you can outsource include:
Background checks and drug screening. If you are concerned about a candidates' personal and professional backgrounds, this can be a great benefit of outsourcing HR. Oftentimes, it is easier to outsource this task.
Law Regulation. You won't have to worry about staying up to date about tax regulations or legal compliance issues since HR outsourcing providers will keep you informed about relevant developments.
Creating and updating employee handbooks and policy manuals. HR outsourcing providers are experts in drafting documents that cover issues like attendance, dress code, sexual harassment, drugs and alcohol, and discrimination.
There are many advantages to outsourcing HR functions like these. When done right, you can boost productivity and employee satisfaction while reducing your operating costs.
Benefits Of Hr Outsourcing For Small Businesses
Larger firms can usually afford to hire full-time HR staff, and it is often better for them. However, smaller businesses don't have as much cash to spend. HR outsourcing for small businesses  can increase productivity, optimize business processes, and improve organizational cohesion and team spirit.  Outsourcing HR also allows you to hire qualified personnel and offer them superior benefits. Most importantly, when your in-house workload is reduced, you can focus on the core aspects of your business.
One of the main benefits of outsourcing HR is saving money that can be invested in other areas that will help grow your business. Outsourcing reduces costs since you spend less on salaries, hiring, and training. You can also avoid the financial penalties associated with noncompliance.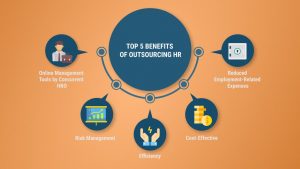 Outsourcing HR activities can play a critical role in business growth
Cost-Effective: Outsourcing HR is a smart business decision for organizations with a limited budget that want to cut costs for employee benefits, hiring and training new staff, to name a few examples.
Risk Management: Managing the ever-changing employment and labor laws and regulations is a complex task. Outsourced HR staff can help you remain up to date and avoid lawsuits.
Efficiency: Compliance, payroll, and administration are among many HR functions that can be outsourced to increase workforce efficiency.
Reduced Employment-Related Expenses: Outsourcing reduces the costs associated with hiring full-time, HR professionals and eliminates the need for more office space and equipment.
Online Management Tools by Concurrent HRO: Concurrent HRO offers advanced cloud-based HR tools designed to help you manage your employees easily.
When Do I Have To Start Thinking About Outsourcing Hr Activities?
When your business starts to grow, there will be more employees and tasks to manage. You'll know it's time for outsourcing HR activities when:
You're spending too much time on HR issues
You're looking for ways to save money
You're concerned about your exposure to liability
Concurrent HRO offers a variety of professional HR solutions for your business. They will help you improve internal business processes, distribute responsibilities, and free up time for you to focus on expanding your company. Contact us today for guidance on outsourcing your HR functions.